Eclipse 2017
For obvious reasons our own star gets oft overlooked, but my goodness is she a beauty
I had been looking forward to this eclipse for years. I remember, even as a child, watching news reports as people in far-off countries viewed a total solar eclipse, while feeling pangs of jealousy as they were able to witness a rare celestial event. In those days, there really wasn't much of an Internet to do research on when and where they would occur, but several years ago I did exactly that, looking with great anticipation at the one that would span across the continent in 2017.
Late last year, I started making plans for viewing the event, deciding that the Kentucky/Tennessee area would be the best. I even set a Siri reminder, 3 months previous to the event, to book travel and schedule time off. Since this was occurring during the summer, it'd be an awesome family trip. Everything changed, however when I moved to Idaho: I was starting a new job without much time off to make a long excursion, but on the plus-side, I was going to be living only 45 minutes from the path of totality.
I'll spare all the details of preparation that went into the great event, but I landed on taking the family to Howe, ID where we would be in the center of the path of totality.
And it didn't disappoint.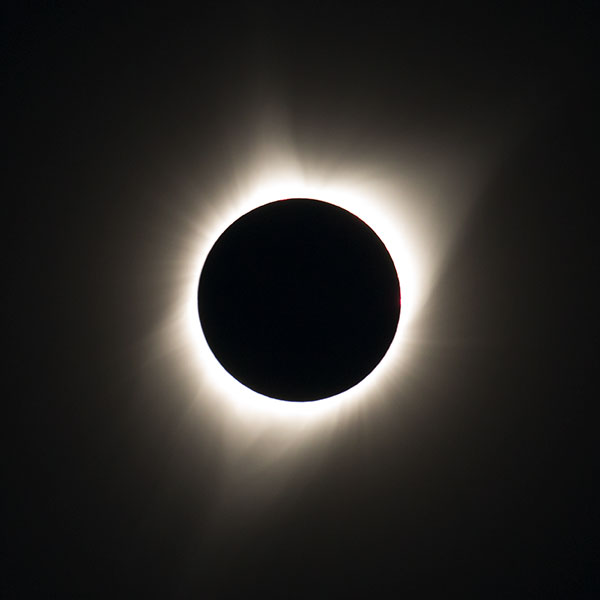 Shot on a Canon 6D @ 600mm, f/8, 1/160s, ISO 3200
Words cannot describe just how (emotional?) this event was. Even all the great pictures I took really don't capture the full majesty of the moon obscuring the sun. But this much I can say: Our star, she is a beauty.
I look forward to the next total solar eclipse that will grace our country in 2024. It will loop up from Mexico, into Texas, and up through Pennsylvania and New York. And I plan on being there to experience this incredible moment once again.