The New Me
tl;dr, For me losing weight has been about the data. In an ever increasingly connected world, the only thing left is personal motivation.
I usually spend the bulk of my time blogging about matters of tech, but this post is going to be a little different. Today I celebrate reaching my weight goal of 165 lbs. For the first time in a very long time I am no longer 'overweight'. This means that for my age, weight, and gender I fit into a category where I am neither overweight nor obese. My BMI is 'normal' and my fat mass is in a range considered 'fit'. I went from 216 pounds down to 165. From a 33% fat mass to 16.8%. This is a big deal to me for a number of reasons.
First, I feel great! Few things are more wonderful than to see my body transforming back into what it should be. I can bend over to tie my shoes without having to hold my breath. I can briskly walk without feeling winded. It just feels amazing to be active.
Second, my self-image has drastically improved. Being overweight was something I was greatly self-conscious of and I avoided being even in family photos. I hated seeing myself. It sounds ridiculous, but I didn't want to be reminded what a problem I had. I even loathed going to the doctors. Every visit was a nagging reminder that I needed to exercise and eat better.
Lastly, I reached a personal goal with milestones along the way. I didn't just start at 216 and set the audacious goal of 50 pounds. I set that big goal with stepping stones in between. My first major victory came when I crossed the threshold of no longer being considered obese. That word in and of itself is gross sounding and it was a huge relief when that label no longer applied.
A lot of questions people ask me center around how I did it. Some asked, "did you join Weight Watchers?", or "did you go low-carb?". I even had people ask me if I was healthy, alluding to perhaps having cancer, dysentery, or some exotic wasting disease. My answer is: none of the above. I just ate less than I used to and got more exercise. The real down-ramp of my weight loss started when I got my Apple Watch back at the end of April, but the origins started all the way in November of last year.
An Anchor of Encouragement
Last winter, after some poking and prodding from my wife, I decided for myself that I really needed to lose some weight. Losing weight is hard and takes a lot of motivation and self-discipline. It is immensely difficult to stay motivated. I resolved that I couldn't let one day's weight gain discourage me, but I needed something that would make recording the data easy and painless.
I bought a Withings Smart Body Analyzer. It measures your weight, fat mass, BMI, heart rate, and ambient CO2 levels. It has a companion app with which it synchronizes your data. You just have to get on it each day and it takes care of the rest. I started on November 7th, 2014 with a reading of 216 pounds.
At first, I didn't change anything about my routine. I still ate as much, drank Pepsi all day, and didn't get any additional exercise. I finished the year at 217.
At the beginning of the year I decided that I needed to drink Pepsi less, eat a little less, and move a little bit more. Instead of getting a foot long sub, I'd get a six inch. Instead of drinking Pepsi for breakfast, lunch, and maybe in the evening, I'd drink one at night and occasionally one during the day.. Over the course of several months I lost a little bit of weight, finishing March at 209. Not bad, but nowhere close to where I needed to be.
Apple Watch
When Apple made its announcement early this year on the pending release of he Apple Watch, I got really excited. I knew that exercise was a significant component that was missing from my plan and, like my Withings scale, it could make exercise data an important aspect of being consistent with how much I got. My watch arrived in April 24th and I weighed 206.7 pounds.
Last year my wife kept bugging me to go exercise with her, like go walking in the neighborhood. I refused. I didn't want to get hot and sweaty and gross. I didn't want to have to get up early that something like that would demand. Spoiler alert: my life is replete with examples of having an opinion and later having to (sometimes forcefully) change my mind.
On April 27th I walked around the block for 30 minutes. Yes, walked. I was trying to fill my exercise circle on the Apple Watch by walking for 30 minutes. My first voluntary exercise in probably a decade.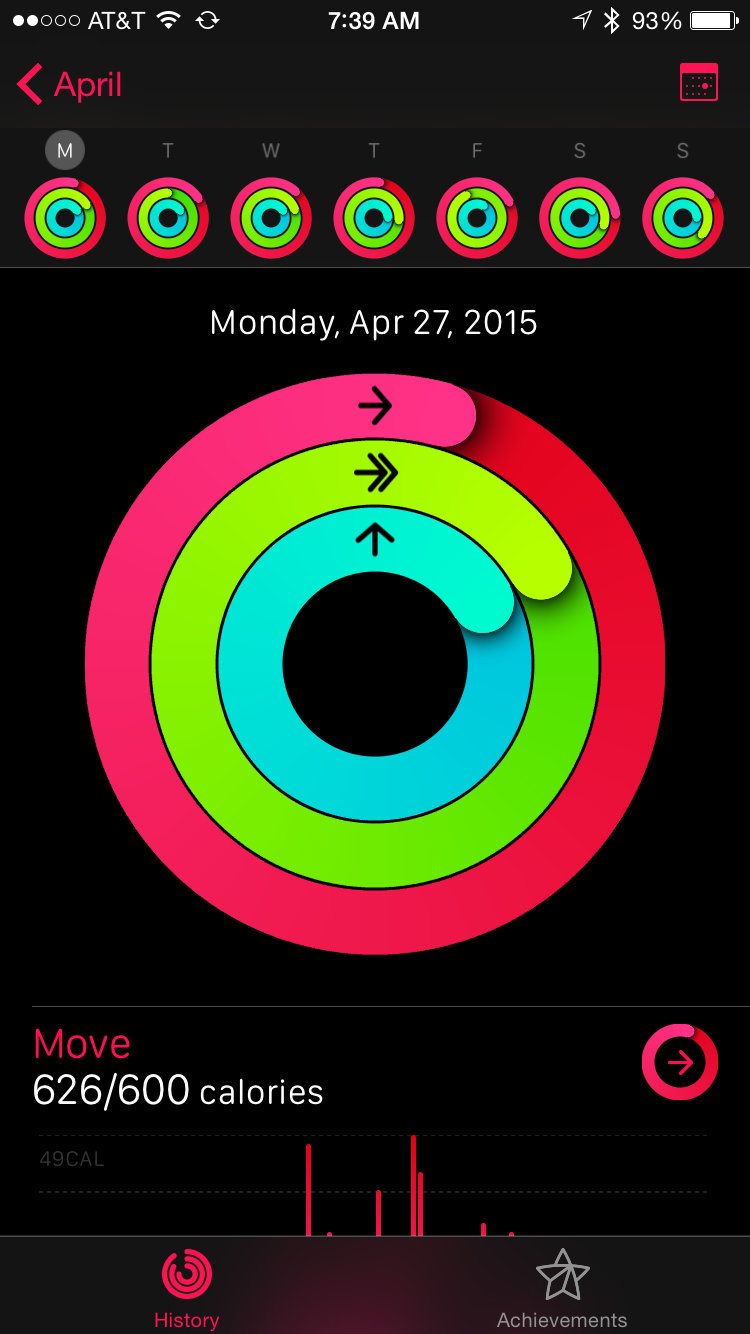 You have to understand, filling those circles is addicting. Blue for standing at least one minute an hour for twelve hours. Green for 30 minutes of exercise. Red for reaching a daily calorie goal. I felt compelled to fill them each. And every. Day. This started a healthy obsession to get the badges and meet my goals everyday. Looking at my daily activity below, can you guess the days that I was sick?
I get up at 5:45 and go walking or running for about an hour so, every morning.
But activity and exercise wasn't the only thing I introduced. Exercise was only half the equation.
Eating better
I began to realize that I had a number of outstanding bad eating habits. I had decreased my caloric intake a little bit at the beginning of the year, but I still did things that were not good: drinking sugary soda pop all the time, eating until I felt stuffed, midnight snacks, and skipping breakfast. All of these things were terrible.
I started eating breakfast: a bowl of wheat Chex, and most recently, 1 cup of low calorie Greek yogurt. I curtailed my pop intake to once a week, occasionally enjoying a Super Big Gulp, replacing my daily sugary drink with water. A tradition of making nachos or eating a microwave yakisoba at 11pm was stopped altogether. At meals I'd eat slower until satisfied. This sometimes left me feeling hungry later but I would eat healthier snacks like dry roasted almonds and cheese and pepperoni to bridge me over.
All until I arrived here today. 165 pounds. If I could pick one word to which I can attribute my success, it would be: data. Data to show my progress and not give up when my weight went up. Data to show how much activity I had and take an extra walk to meet a goal. Without hesitation I'd say that my Apple Watch saved my life. I'd buy another one, easy.
Here's a graph of my weight since November 7th, 2014: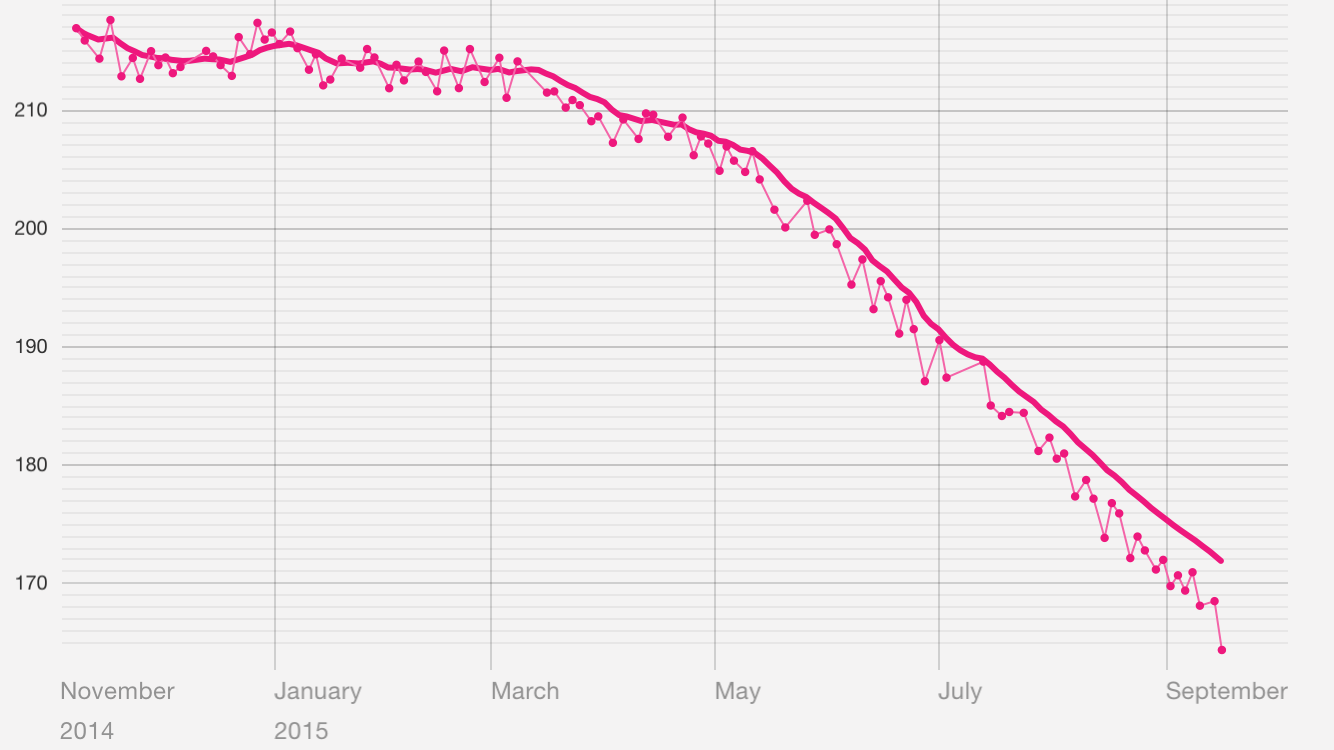 What's Next
Just because I've reached my goal doesn't mean that I can let my guard down. This is a lifestyle change and needs to be enduring. I can't fall back into my bad eating habits. Other than the aforementioned modifications, I haven't subscribed to fad diets, juice fasts, or other extreme measures. I chafe at the suggestion from other people who tell me that I can't eat certain things anymore. I still eat a lot of the things I used to, just not too much. Instead of eating fast food everyday, I eat something greasy and awesome once every week or two. Moderation, go figure.
I still plan on getting up early and exercising for as long as my body will allow me. Badges and achievements have been fitness crack cocaine and there is still a 365, 500, and 1000 day activity badge left to get on my Apple Watch. I really wish Apple would design their hardware to allow for swimming. I'd love to get more upper body strength.
A new wardrobe is in order. My 2XL and XL shirts don't fit anymore. My size 38 waist jeans don't, either. It's a crying shame, really, because I buy my jeans a year in advance. I stock up on Black Friday and I still have several pairs that still have their tags on them. Despite the loss, this is a Good Problem to have. A little bit ago my wife dug up an old T-shirt that we each got on our honeymoon. I put it on and it fit. It was depressing because this is the fittest I've been in over a decade. But it was wonderful, too, to have my body back.
In addition to my waist line, my fingers aren't as big around as they once were. Several years ago I had my wedding ring sized bigger. Now it easily slips off. Time to get it sized back where it was.
I don't like to talk about my goals, but in July I ran my first 5K ever. It was another really great accomplishment, a milestone, of how far I had come. Talking in terms of the global population, few people ever run marathons in their life. Maybe that's something I should add to my bucket list and cross it off. It will be a lot of training and hard work. It won't come easy. We'll see.
More than anything, I've gotten a huge confidence boost in being able to accomplish the things I want out of life. And after going through this experience, I sincerely believe you can't really put a price on something like that. It's incredible.